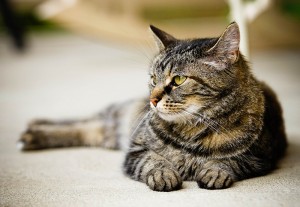 One of the most common health concerns that cats may suffer from during their lifetime is Feline Lower Urinary Tract Disease (FLUTD).
FLUTD  refers to a number of conditions that affect the bladder or urethra in cats. Causes of FLUTD include;
* Feline Idiopathic Cystitis (FIC) or interstitial cystitis – this is the most common cause of FLUTD as it is the general diagnosis given if a cat presents with symptoms of FLUTD and no other cause is able to be diagnosed.
*  Urolithiasis (Urinary Stones) –  this is when stones, or a hard collection of minerals, are formed in the bladder.  Urinary stones are usually diagnosed after an x-ray confirms their presence.
*  Urethral obstruction – which is the most serious and life threatening cause of FLUTD.  This is when the cats urethra becomes partially or completely blocked.  The blockage can be caused by stone or a urethral plug which is made up of a combination of protein/cellular material and minerals or prostate disease in male cats can cause an obstruction.  To determine if a blockage is present the vet will feel the cats abdomen and x-rays and blood tests will be taken.
*  Urinary tract infection – this is more common in older cats over the age of 10 and occurs when a bacterial infection takes place in the bladder or urethra.  This can be diagnosed through testing a urine sample.