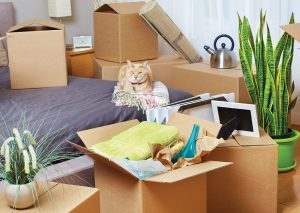 Moving house can be a very stressful time for your cat. Here are a few tips to follow when moving to help your cat adjust to their new home.
* When you first arrive at your new home do not release your cat until all visitors and movers have left. Ensure that all doors, windows and possible hidey holes (like open fire places) are closed.
* Introduce them to the house slowly by keeping them confined to one room for a few days. Put all their familiar things in that room including their bed, blanket, toys, scratching post, litter tray, food and water. This will allow them to become accustomed to their new surroundings, smells and sounds while feeling safe with their own familiar things.