Most cat owners at some point will hear that terrible sound of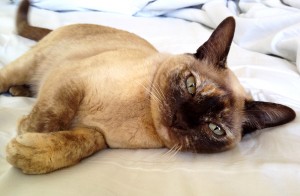 their beloved cat hacking and gagging as they try to vomit up a hairball.  Just recently one of mums cats, "Kit Kat", a three year old Burmese started this terrible process of eliminating hairballs for the first time.  Vomiting up hairballs is a common and normal process that most cats will go through at some point.
Cats in general are meticulous self groomers using their tongue to clean themselves.  The tongue has tiny hook like structures that help in the grooming process by removing the loose hair.  While grooming, some of the hair may be ingested but usually it will pass through the stomach with the faeces.  Occasionally the hair can build up in the stomach and the cat will need to vomit it up, this is a hairball.  A hairball looks more like a long thin tube of wet hair rather than a ball.