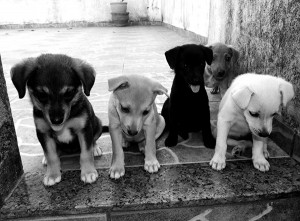 As a nation that believes in animal rights and responsible pet ownership we need to reduce the number of animals being bred. If less animals were being irresponsibly bred then in turn this would reduce the number of unwanted, mistreated, stray and abandoned animals.
I am a strong believer in getting your pets desexed. I feel that there really isn't any need to keep an entire (undesexed) dog or cat unless you are a registered breeder. I believe that all pets should be desexed before they become sexually mature enough to breed, so by 3-6 months of age.
Many people think that having a litter of puppies or kittens is fun and they are so cute or possibly a way to make some extra money. In my opinion these are not good enough reasons to bring these innocent fur babies into the world. Some people even think that owning a dog or cat and then breeding them is their "right". Owning an animal is not a "right" it is a responsibility! Dogs and cats are living breathing creatures that require and deserve to be cared for.